Yesterday, July 22, 2022, when I saw the news that Joy Dawson had gone to be with Jesus, I made a point of reading everything I could find and then spent most of the rest of the day watching for and basking in the memories and comments I saw "trending" in my various social media apps. Such an incredible and godly life, now among the "cloud of witnesses" rooting for us to finish well, like she did.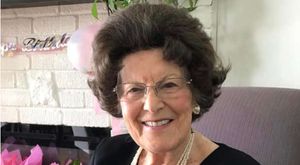 I didn't know Joy personally, but had heard her speak a few times and we were connected through the Pratneys and Winkie's incredible story about meeting Loren Cunningham (YWAMs founder) at the Dawsons' New Zealand home. That meeting wasn't an accident. Joy put it together. That introduction brought Winkie to the US and YWAM became instrumental in the final touches and production of Winkie's discipleship manual, "Youth Aflame".
This, in turn, launched Winkie's US ministry.

The only time I really got to speak to Joy at any length was at the YWAM Los Angeles base a few years ago when Jim and I were on tour in California where several of our ministry stops, along with a wonderful host home, put us in YWAM's back yard. 

We spent some hours at a YWAM gather there, fellowshipping with people we have known for years and meeting new friends. Some of them we had loose connections with because of our time during the very early days in Agape Force and others we were acquainted with from our subsequent role as US helpers to the incredible "Trust God Or Die", continent-hopping Pratney family ~ "The Traveling Sparrows"   

When we connected with Joy briefly after the event, she instantly had a message for me to deliver to Winkie and was concerned about the family's health and ongoing well being. All this while she suffered with intense and almost continual back pain. I had to admit I was amazed by her stamina in the face of suffering. 

Then last night, as the day was winding down, Holy Spirit nudged me and said. "You have a story about Joy Dawson in the 'Voices of Agape' (working title) manuscript. I sighed.
 
The pandemic had interrupted my last attempt at finishing that manuscript. My last interview had been with Patty Gramling Forney in an effort to bring her incredible story into sharper focus and into the present, (and to make sure the original story was completely accurate. That interview took place less than a week before lock downs began in March of 2020. Another ministry trip that included dates in California was scheduled for April, but it never happened. In less than one week our ministry suddenly shifted from what it had been for years to a very focused fight against the spirit of FEAR and finding ways to work in our local community and home church to continue ministering in effective ways during that initial onslaught. 

A few months later (mid July) we ran completely out of Revival Study Bibles (We had been distributing those since 2010) and began planning what became "The Reprint Project" - possibly one of the most significant things we may ever do. 
The "Voices" project has been gestating a long time now. Maybe it will be ready to be birthed soon. 
So here we are and here I am, as wordy as always. And here is the story. 

It's a story of the miraculous healing of a new convert (Robert Duran). These true events set that dear friend free to pursue an incredible life of powerful ministry where the sick were often healed, the dead were raised (I have a story about that as well) and numerous churches were planted by Robert and Ani themselves, their children and spiritual children, in various parts of Mexico. The story that follows are Roberts' own words and came from an interview with Robert and Ani in 1996, when the idea for what because "Voices" was first beginning. 

Thank you Lord! We are forever grateful to you for your servant Joy Dawson, her obedience to You and her sensitivity to Holy Spirit. 
Young Man, Stand And Receive Your Healing 
 "For consider your calling, brethren, that there were not many wise according to the flesh, not many mighty, not many noble.." (I Cor 1:26)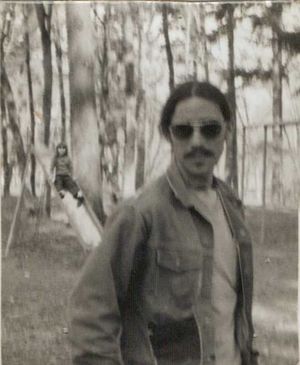 I had been saved about three or four months and God had already done great things in my life. I left my home town of Los Banos and the team that was still there and I went through a DTI at the Agape Force headquarters in Sebastopol. But I was having a hard time. 

I had abused my mind with so much sin and so many drugs that I found it really difficult to concentrate. My mind would wander. I was willing, but I was really fried. I wondered many times if God would be able to use me. I wondered if I was worth the effort that God and these people were investing in me. Perhaps there was not enough left of my mind to salvage. I decided, though, that whatever I had left I would give to God. 

One day the school staff took us to hear Joy Dawson speak. For some reason we were late getting to the church in Santa Rose, CA and had to sit way up in the balcony because the church was packed. 

By the time we got seated Joy was already preaching. She seemed odd to me. I was so new to all this that everything seemed odd to me. There she was, dressed in a long, flowing dress and speaking with her New Zealand accent. I just kind of mentally shrugged and thought, "This is okay, I guess. This is fine."

Suddenly, right in the middle of her message, she stopped. Then in a moment she said, "The Holy Spirit has just showed me that He wants to heal somebody's mind. He's showing you right now who you are." 
My heart started racing, and I knew it was me. 

"Young man," she went on, "I want you to stand up and receive your healing."  I didn't move. 

She made the appeal several more times and then pointed into the balcony. "You're sitting right up there, young man, stand up and receive your healing. Way up in the balcony." I was afraid to stand because I didn't know what was going to happen. 

Pretty soon somebody else stood up and I thought I was off the hook, but she said. "No, it's not you. Maybe God has something for you, too, but the young man who knows God is going to heal his mind stand up." 
Finally I stood up. Instantly it was as if somebody was pouring warm oil over my head. Nobody touched me, but I just felt this wonderful sensation flowing over me. When I sat down again I knew that God had really touched me. Sure enough, after that I was able to think straight and concentrate. To me that was such wonderful proof of how sovereign God is. He saw something, but what? Why? There were about two thousand people there. Certainly others needed healing. 

I wasn't anything special. I wasn't especially deserving. Yet God called me out and touched me. How could I not serve Him? How could I not follow hard after Him? How could I not tell others of His wonderful love? 
Robert Duran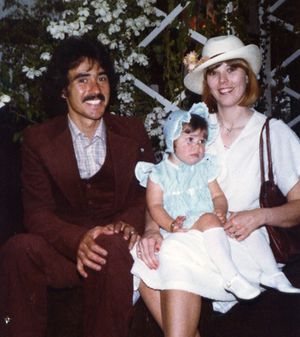 Robert and Ani Duran with their oldest (left) and their youngest (right)