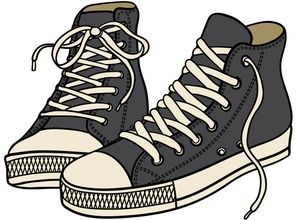 Here's another story from the Agape Force's time in Reedley, but it's a personal one from Greg Lanson, who was really helpful when I was doing research for the project in 1995. Though Greg has passed on we have here a story of our journey toward deeper trust; trust for every little thing we needed. I have several other Reedley stories and am considering whether it would be best to post them all together or spread them out. If you have an opinion there let me know. Life and ongoing duties and ministry often intrude on my ability to write and post, but I've been reading through the "Tales..." manuscript and doing some editing and re-writes and figuring out what else will be needed to make this collection as good as I can make it. Here's Greg's story....
Faith For A Pair Of Shoes 
"And why are you anxious about clothing? Observe how the lilies of the field grow; they do not toil nor do they spin, yet I say to you that even Solomon in all his glory did not clothe himself like one of these. But if God so arrays the grass of the field, which is alive today and tomorrow is thrown into the furnace, will He not much more do so for you, O men of little faith?" Matthew 6:28-30 (NASB) 
By the time we went to Reedley I had been living completely by faith for some time. We stayed where God provided. We ate what God provided and we did what God told us to do. And God was moving in such powerful ways. We could feel the presence of the Holy Spirit everywhere we went. It seemed like He was all over town. Even if we went to the grocery store to get a candy bar, the Holy Spirit would be there in the check out stand with us. 
Yet, I was troubled. I had holes in the bottom of my shoes so big that I could feel the cold pavement when I walked. I had asked the Lord to meet this need, and I thought I had been trusting Him, but, so far, nothing had happened. 
Finally I went to Tony to confess my faithlessness. Surely there must be something wrong with me if God was not meeting my need. I even felt bad telling Tony because I had wanted to trust God for the need and not tell anyone else about it. Tony assured me that I had not done wrong by telling him and we prayed together. 
That same day, Jim Slentz, the associate pastor at Full Gospel tabernacle came to Tony weeping. "I've been disobedient to the Lord," he said. "God told me to give Greg a pair of shoes and I never did it." 
"Well, can't you obey God now?" Tony asked.
 So Jim Slentz got a gift certificate and Tony gave it to me. The Lord was so much bigger to me that day. I even remember what kind of shoes I got. They were called desert boots. (They probably went well with my bell bottoms!) 
That little incident had a huge impact on my life and laid a foundation of faith for me. 

Greg Lanson